Partner for generations of documents and data for 25 years
When it comes to corporate, customer, and employee data, security considerations must always come first. Nearly all documents and files on data media in an office contain sensitive information that should be inaccessible to third parties. The REISSWOLF modular security system allows you to use exactly the level of security you need at any time.
For lasting confidence
REISSWOLF SWITZERLAND has been destroying confidential documents and electronic data media for over 20 years: professional, discreet, environmentally friendly, and above all with many years of experience – more than 15,000 tons every year. Over 10,000 customers trust our data protection services, from banks and insurance companies to hospitals, legal institutions, notaries, and public services.
REISSWOLF SWITZERLAND offers:
External data media and document destruction in line with industry standards: in accordance with the Data Protection Act and DIN 66399, protection class 3, as well as in accordance with DIN ISO 9001: 2015 and 14001: 2015
customised solutions: whether regular collection, collection on demand, or one-tie archive clearing, whether 30 kg or 30 tons
innovative protection against unauthorised access: thanks to the electronic locking system "elsy"
environmentally-friendly processes: The destroyed data protection material is recycled as raw material for the processing industry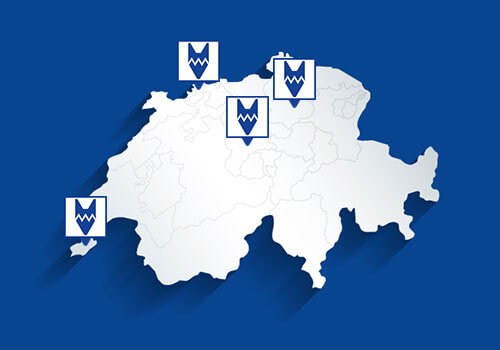 4 Locations in Switzerland
The contact details as well as our contact form for a non-binding enquiry can be found here.